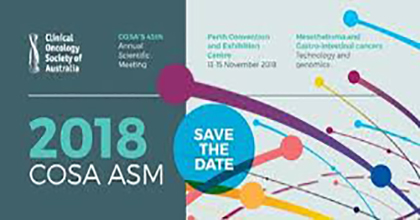 (written by our NET Nurse, Kate Wakelin)
In mid-November, hot on the heels
of the very successful APNETS conference, World NET Cancer Day, and patient symposium
in Melbourne, Simone, Meredith and I flew to Perth for the Clinical Oncology Society of
Australia Annual Scientific Meeting. This is a multidisciplinary conference,
which always brings lots of opportunities for learning and networking. With the
focus this year being on mesothelioma and gastro-intestinal cancers, we were
very much looking forward to being there.
What followed was three days that
were jam-packed with thought provoking and relevant sessions, as well as the
opportunities to catch up with health care professionals involved in NET care
from around the country. Simone attended and presented at the IPSEN breakfast and there were many other highlights that really caught my attention including:
=
Some interesting research into skills
development for health professionals for better inclusion of family carers in
patient care
=
The vital link between exercise and nutrition in
optimal cancer care – impossible to focus on one, without acknowledging the
other
=
Medical cannabis: we still have a lack of
evidence for effectiveness, dosage and side effects. Many patients are sourcing
cannabis products informally, with concerns regarding quality. Clinical trials
continue, this takes time.
=
Inherited cancer syndromes – acknowledgment of
emotional burden of these syndromes for families, and importance of holistic
care. There is an overall tendency for families to overestimate risk, therefore
importance of providing clear information and support
=
Ongoing issues around communication between
specialists/hospitals and GPs. Patients often don't really know what to consult
GP for (or specialist). Particularly relevant given our Treatment and Wellness
Plan project, that we have been working with the Australian Cancer Survivorship
Centre on.
=
The role of MOOC (Massive Online Open Courses
e.g. Futurelearn) in GP education
=
Gastro-intestinal NETs session
o Further
explanation re grading – emphasis on tumours being on a spectrum (rather than
neatly defined categories)
o Role
of physician being like a shepherd – role is to help guide through multiple
treatment options, in consideration of many individual factors
o Diversity
in genomic profile of NETs, even between seemingly same tumour types
o Clinical
trials update, including TGA approval of new drug for carcinoid syndrome
diarrhoea, Telitrostat.
The icing on the cake in Perth
for me was definitely meeting up with our support group, who changed their
meeting date to coincide with the conference. We had a very productive meeting,
introducing Meredith, talking through some of the updates from APNETs and COSA,
and doing some very good planning for the group's activities in 2019. Thanks to
everyone who made it along, it was wonderful to meet everyone!
Despite the long distance, and
time away from the office and family, COSA proved to be an extremely worthwhile
conference to attend!