Read Kate's reflections of ENETS below……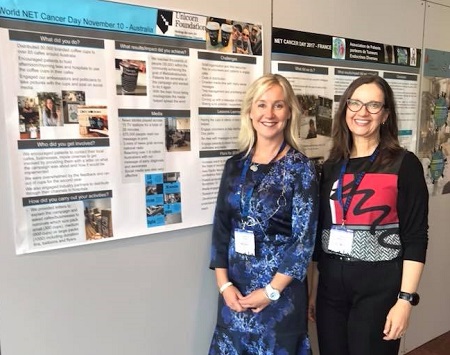 Early in March I was privileged to attend the European
Neuroendocrine Tumour Society annual conference in Barcelona, Spain.
What a wonderful opportunity to hear the latest updates and
emerging thinking about NETs, from every corner of the globe!
Some highlights included:
An increasing focus on nutrition in NETs, particularly
around the issues of vitamin deficiencies associated with carcinoid
syndrome and somatostatin analogue usage. It was great to see one of our
wonderful Australian NET dietitians, Erin Kennedy provide both an
oral and poster presentation.
Learning about the usage of intra-arterial PRRT,
delivered directly to the liver via a catheter fed through an artery.
Very positive results from NETTER1 trial, demonstrating
sustained effectiveness of PRRT.
Nursing specific content related to the management of
carcinoid heart disease and nutrition.
I was also honoured to present alongside our wonderful
Simone Leyden at the patient symposium, highlighting some of our call data
with a focus on unmet needs.
We have returned to Australia feeling inspired and
energised, with much to do, knowing that we have many international friends
working towards the same goals!