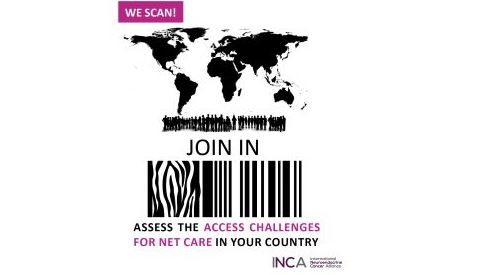 In order to better understand the challenges to provision of optimal care to NET patients, INCA is launching SCAN – a global survey designed to capture both NET patients' and healthcare professionals' perspectives, which went live on September 16th.
SCAN is an acronym standing for Survey of Challenges in Access to Diagnostics and Treatment for NET Patients. It aims to collect robust global data by geographical areas covering Africa, Asia, Oceania, North and South America reflective of the NET patients and the medical communities with relevance to NETs. The survey will be available in 14 languages: Arabic, Bulgarian, Chinese, Dutch/Flemish, French, English, German, Hindi, Japanese, Italian, Portuguese, Russian, Spanish, and Swahili.
For the first time ever, SCAN is going to measure the out-of-pocket costs of diagnosis, treatment and on-going monitoring of NETs on a global scale. You can read more on the survey's aims here.
INCA invites medical professionals from the fields of medical oncology, endocrinology, gastroenterology, pathology, nuclear medicine, surgery, as well as general practitioners and nurses to share their viewpoints.
With the ambitious goal of collecting responses from all parts of the world, we turn to you with a special request to help spread the word about SCAN.
The survey for Healthcare Professionals can be found here (your responses and time are invaluable).
The survey for NET patients and NET patient caregivers is available here (we ask our patients and carergivers to complete this survey and health professionals to send to as many patients as possible).
Given the significant outreach potential and influence of Australians, your support would mean a lot for increasing the impact of SCAN. We will be grateful if you could help us in achieving maximum coverage by disseminating the survey to your members and partners. In terms of timelines, SCAN field phase is scheduled to take place from September 16th until October 31st.
Thank you in advance for supporting our efforts to improve outcomes for NET patients.