I've lost the key to my imagination, now I can't start my Unicorn, and why I walked 806km across Spain.
When Glenn was diagnosed with Pheochromocytoma, it was a shock, he had not been sick and no family history of cancer. Sarah remembers calling the Qld Cancer Council, the lady she spoke to was great, very understanding and empathetic but had no idea what Pheochromocytoma was. She offered what help she could and Sarah thought that was it.
Fast forward, Glenn has had the tumour removed, he has recovered from surgery and apart from regular check-ups we can move on with our lives.
12 months later, we discovered the Unicorn Foundation and wanted to help raise awareness of the foundation so when someone goes through a rare cancer like Glenn did, they can get more specialised support.
Glenn wanted to challenge himself and decide to walk the Camino de Santiago (a walk of 806km) and asked Sarah to complete it with him. Sarah had been beside him every step of the way through his cancer so she decided to be beside him every step of the way on this challenge.
The Camino Frances is the most well-known and travelled pilgrimage route to Santiago. It starts officially in the in the Basque region at the foothills of Pyrenees in the delightful town of St Jean Pied de Port in France, approximately 8 km from the border with Spain. From here the route stretches for almost 800km through across the top of Spain to Santiago de Compostela.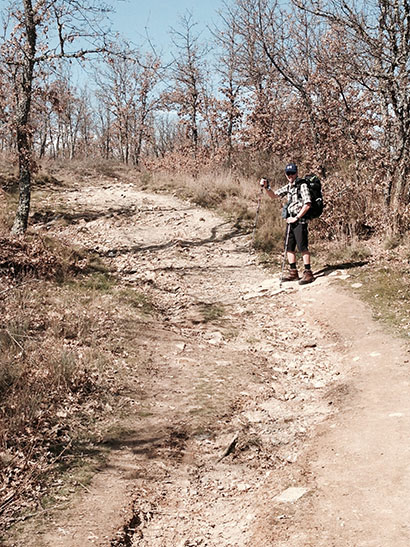 March 1st we started our trek on a cold, wet morning in St Jean Pied de Port (France) and had a very hard walk up the Pyrenees with an elevation of 1500m and distance of 24km to reach Roncesvalles. It was the most physically draining day and we had 790kms to go.
One of the great things about the Camino is the variety of terrain we encountered, from mountains and the foothills of the Pyrenees, the beautiful vineyards of Rioja to farmland, rolling pastures and forests, though cities, towns, ancient villages and hamlets.
Along the Camino there are 505km of paths and tracks, 203 Km of quiet roads (mostly through small villages) and the balance along main roads. There are steeper sections, the lower ridge of the Pyrenees between St Jean Pied de Port and Roncesvalles at the start of the Camino and there are several mountain passes with altitudes of up to 1,500m around Roncesvalles, Astorga and before O' Cebreiro.
Walking with Sarah was amazing to see her strength in difficult situations, there was not one perfect part of the walk, it was the whole thing. You pass through 141 different places from Villages, Hamlets, Localities, towns and cities on average 5-6 km from a grocery store, café or bar for an essential pit stop where you can stock up, drink, eat or use the bathroom.
Averaging 31km a day over 26 days was hard, but after the first hour of each day you got into a rhythm and just walked with rest stops along the way. I must say that the personal satisfaction of walking the Camino is hard to put into words as it was the best personal challenge that Sarah or I had ever done. Overcoming the Pheochromocytoma was 'a set of steps' for me to go through to go through to still be around today. With a positive attitude and looking forward, it was time to take 1,040,000 more steps and complete Camino de Santiago.
Walking into Santiago and thought we hit the finish line was amazing, but still had 3km to go to arrive at the Cathedral….. It seemed like we were never going to finish but to see all the people overwhelmed by arriving just cemented it in for us as to why we were here.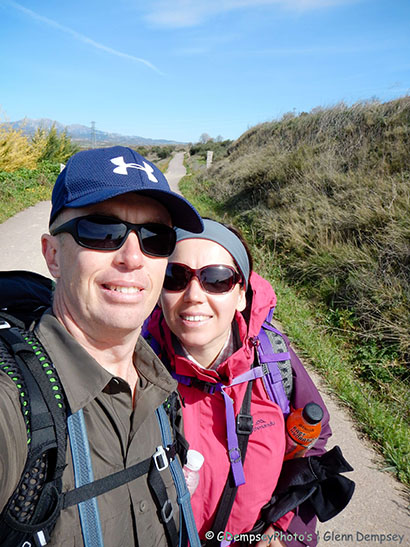 The end was only just the beginning as now the journey has begun by assisting the Unicorn Foundation, a non for profit medical foundation, acting in the public interest, who aim to educate and support Australian sufferers of neuroendocrine cancer (NET) and their families by increasing their awareness and knowledge of the disease.
Sarah and I have raised almost $8,000 in 7 months and over many years to come will assist in being part of the Unicorn family in ways that we can.
The Unicorn Foundation would like to thank Glenn and Sarah for their amazing support, enthusiasm and geneoristy.