On the first Saturday of September Brianna, Caenwyn, Charli-Belle, Louise, Mia-Bella, Milly, Sophie C and Sophie J set up the first Unicorn Foundation Lime'onade stand at the Mosman Markets in Sydney.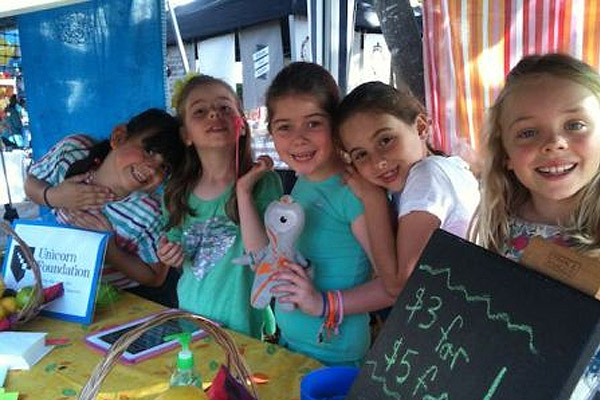 In an incredible effort they:
Produced and delivered over 400 glasses of a tasty, healthy and freshing beverage
Made many people happy with your "minion"- like cheerfulness, your friendly and polite service manner and, of course, your singing – especially your singing, that added a special lightness to the Mosman Markets.
Raised a lot of money that will enable the Unicorn Foundation to do some extremely important things. To improve the lives of some people affected today by the cancer that produces Neuroendocrine tumours and to continue it's research work toward finding a cure to completely save some peoples' lives in the future
Thank you to the girls for their fantastic effort as well as to:
Your good parents
Simon for his work with the Product Development Team (Sophie & Milly) and explaining the work of the Unicorn Foundation
Simone for her work with the Stall & Branding team (Caenwyn, Charli-Belle, Sophie C and Mia-Bella)
Cheryl for gazebo loan and team support on Saturday
Hewlett family / Thomas Dux for lots of lemons and limes and Honi and Katrina for team support on Saturday
Sister Jane for her industrial juicer, for the ice run and the run back home at 12 o'clock to juice another 5 litres of fruit
Nephew Jack and Jane for set-up support
And special thanks to Flemming Christensen for pulling it all together!
With over $1,200 raised we are so proud of your efforts. What a great effort from a very special community and one that is forever supportive of our foundation and our patients.