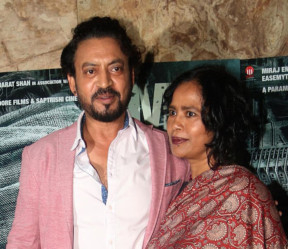 Great news that Bollywood actor Irrfan Khan has returned to work after being treated for NET Cancer.
A recent news article reports that the actor is currently shooting his next film "Angrezi Medium" and his wife Sutapa Sikdar wrote a message to their well wishers:
"Longest year of our life. Time was never measured with pain and hope at the same time ever. While we take our baby steps back to work, to life, I am submerged in prayers, wishes and faith from friends, relatives, strangers and a connection with universe which gives us a small chance for the new start. It seems unbelievable… Never ever did I realise the meaning of the word unpredictable so well. Never ever I could feel people's wishes on my bones, breath, heartbeat which helped me to stay focussed and kicking."
We send Irrfan and his wife our very best wishes and thank them both for raising awareness about neuroendocrine tumours.