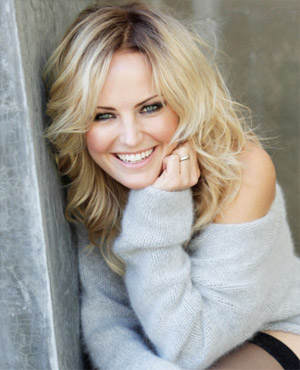 Named one of Variety's "10 Actors to Watch" in 2007, MALIN AKERMAN has since been tearing up Hollywood with her beauty, charisma, and moxie. The Swedish-Canadian actress, best known for her sharp comedic timing and cover-girl good looks, has also wowed audiences with her touching dramatic performances.
She recently wrapped production on Simon West's Medallion, starring alongside Nicolas Cage and Danny Huston. She is also slated to star in Inferno, the Linda Lovelace biopic, as Linda Lovelace herself, and will sing alongside Tom Cruise in the musical Rock of Ages, set to hit theaters summer 2012.
In January 2012, Malin will join Paul Rudd and Jennifer Aniston for the Judd Apatow-produced comedy Wanderlust.
At the 2011 Tribeca Film Festival, Akerman shared the screen with Ryan Philippe and Taylor Kitsch in Steven Silver's film The Bang Bang Club. The drama premiered at the 2010 Toronto International Film Festival and is based on the true-life experiences of four combat photographers capturing the final days of South African apartheid.
In March 2011, Akerman was seen in theaters nationwide in the 2010 Sundance Film Festival Audience-Award-Winner Happythankyoumoreplease. She joins Kate Mara, Zoe Kazan, and Josh Radnor in Radnor's directorial debut. As Annie–a woman struggling with alopecia–Akerman gives "one of the most genuine and heartfelt performances from this year" (Erik Davis, Fandango). Also in March, Malin appeared in Sebastian Gutierrez's fun and sexy Elektra Luxx, which premiered at the 2010 SXSW Festival.
In September 2010, Malin starred in the charming indie rom-com The Romantics, directed by Galt Niederhoffer. The Romantics also premiered at the 2010 Sundance Film Festival and co-stars Katie Holmes, Anna Paquin, Josh Duhamel, Adam Brody, and Elijah Wood.
In October 2009, Malin was seen in the Peter Billingsley-directed hit comedy Couples Retreat opposite Vince Vaughn, Kristen Bell, Jason Bateman and Jon Favreau. In March of the same year, she co-starred as Laurie/Silk Spectre in Zack Snyder's blockbuster Watchmen, which opened at number one with more than $50 million in box office sales. She was nominated for a Teen Choice Award for this role.
In 2008, Akerman starred in the hit romantic comedy 27 Dresses, with Katherine Heigl, James Marsden and Edward Burns, under the direction of Anne Fletcher. Akerman recently reunited with Fletcher to join Sandra Bullock and Ryan Reynolds in the romantic comedy The Proposal, which also topped the box office after its debut and has grossed more than 300 million to date.
In 2007, Akerman could be seen alongside Ben Stiller in the comedy The Heartbreak Kid, directed by the Farrelly brothers. She is often remembered her delightful portrayal of wacky nut job Lila in this cult-classic. Akerman's other credits include Harold and Kumar Go to White Castle and The Brothers Solomon.
Despite her wide-ranging experience with feature films, Akerman is also no stranger to the small screen. Her breakthrough came in 2005 on the HBO series "The Comeback," starring Lisa Kudrow as a washed up sitcom actress. Akerman gained the attention of both critics and audiences for her role Juna Millken, a popular model/musician who befriends Kudrow's character as she tries to resuscitate her career. Akerman also had a memorable recurring role on the third season of HBO's hit series "Entourage." She was recently seen in a special episode of "How I Met Your Mother" and graces TV screens while co-starring in the second season of Adult Swim's "Children's Hospital"–a hilarious medical-drama parody.
Born in Stockholm, Sweden, Akerman moved to Toronto, Canada at the age of two. By age five, she had already begun to model and act in television commercials, and at 17, she won the "Ford Supermodel of Canada" search. After attending college as a psychology major, Akerman relocated to California to focus on acting. It was here where Akerman met her drummer husband Roberto while performing as the lead singer of the alternative rock band The Petalstones. The two currently reside in Los Angeles.