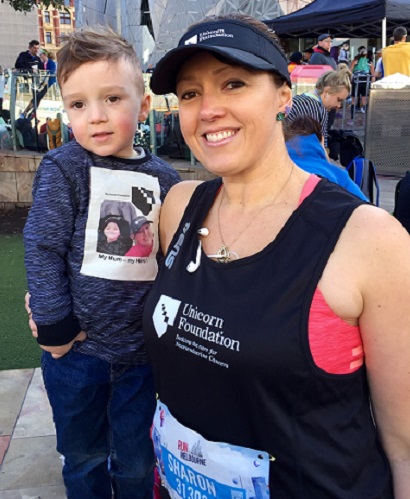 Sharon Rickard is one very motivated Mum. Diagnosed with NETs in 2015, she had treatment and then set the amazing goal to complete The Age "Run Melbourne" event. We thank you so much Sharon for all your hard work and love that you have shared your story below.
This is what Sharon had to say…..
"When I saw Run Melbourne in January I registered straight away. I saw so many benefits. Growing up in country NSW I was always involved in sports. Netball and tennis then karate when I moved to Melbourne and running. So regaining my fitness and health was an important part of life to me. I felt like my body had been through a lot and I wanted to take care of it and be prepared for my whole future ahead of me. The great thing about Run Melbourne is though Sole Motive you can chose a charity to fundraise for. So of course I chose the Unicorn Foundation. When I was searching for information on NETs Google did my head in but when I found the Unicorn Foundation things finally made sense! Even though I had some medical knowledge through Veterinary Nursing it's still not easy to understand and/or explain until you find a source that can do just that.
In January I had only just started to exercise again so when it came to choosing a distance I didn't know what I would be able to do. As a full time working mum just returning to exercise training was limited so I chose 5km to be safe. I didn't know how my body would respond. I didn't even know what 'wave' to choose when I had to select what time I thought I would finish it in. People would ask what distance I was doing. Some would ask 'only 5km?' in fun. I explained my background and who I was fundraising for and I watched their opinion change quickly! I am happy and proud to call myself a 'fun runner!'
I mainly fundraised through good old facebook, sharing my page and others did too. In May I had an online Jamberry Nail Party. 10% of profits went to my fundraising. And this is where I got my zebra nails for the run! At work I had a collection tin which got full and heavy. I counted all the coins up and transferred the money to my fundraising account from my account and I kept the coins aside as my coffee change!
I had fun making sure I looked the part for the day. I felt so special when I got my Unicorn Foundation singlet and visor in the mail. I wore my visor whilst running leading up to the event but saved the singlet for the day! I was so proud! I accessorised also with unicorn and zebra earrings and even found running tights with a zebra pattern in them. My mum made my son Max a top with a picture of us on the front and the Unicorn Foundation logo on the front and the ribbon on the back. The day before, I made streamers for Max and my husband to wave at the finish line.
Run Melbourne is a great event and I'll definitely be there again next year. It's at a great location… easy walk for your supporters to get a muffin and coffee and babycino on the way to greet you at the finish line. There were heaps of stalls, stands and music giving it a great atmosphere. I usually run with earphones in listening to music however "Run Melbourne" had live bands dotted along the course so my earphones were in and out.
I actually finished with a personal best by a few seconds and when I saw my results I was very surprised – there was 3859 in the 5km run and I finished in the top 3rd, was in the top 3rd in my age group and top 3rd in females.
'Aspire to Inspire' has become my motto. I wanted to be come out of this stronger. I want others to feel the hope that I feel. I wanted to create awareness of NETs and the Unicorn Foundation. At Run Melbourne crossing the finish line I feel like I accomplished all of these things and I will continue to do so."