The 12th annual European Neuroendocrine Tumour Society (ENETS) scientific meeting was held in Barcelona, Spain in March. This meeting is recognised as the preeminent meeting where international NET experts gather to present and discuss the current research, treatments and issues regarding neuroendocrine cancers.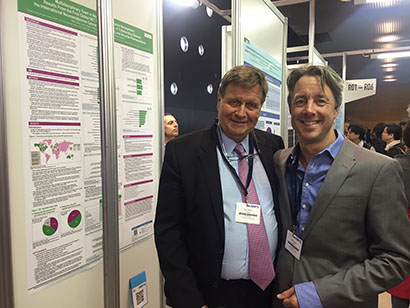 Dr John Leyden and Prof Kjell Oberg
This year's meeting was particularly exciting with the presentation of four abstracts based on the global NET patient survey. The global NET patient survey which was a collaboration between the International Neuroendocrine Cancer Alliance (INCA) of which the Unicorn Foundation is a founding member and Novartis Oncology. The Unicorn Foundation, through its networks, email, facebook, NET nurse support service and website was able to recruit 138 patients (7%) for this phenomenal and world first survey that has capture the 'quintessential' NET patient journey. We now have a body of evidence derived from 1927 respondents worldwide that has highlighted the myriad of issues with NET, but more importantly, the areas in which we can direct resources so as to improve the patient journey with NET.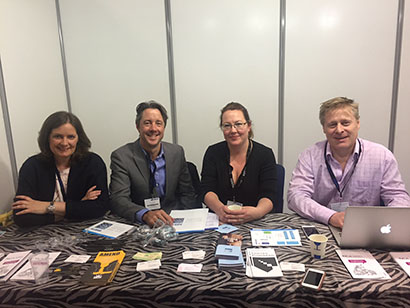 Jo Grey (AMEND UK), Dr John Leyden (UF AUS), Maia Sissons (NET Patient Foundation, UK), Allen Wilson (Paratrooper, Ireland)
Dr John Leyden has been involved in this survey from its inception and has been representing 'Oceania' as an author on the abstracts and presentations that have been published. We encourage our NET specialists to reference this data and our NET patients to print the abstracts and use them to help educate others about NET and the impact that this has on many aspects of a NET patient's life.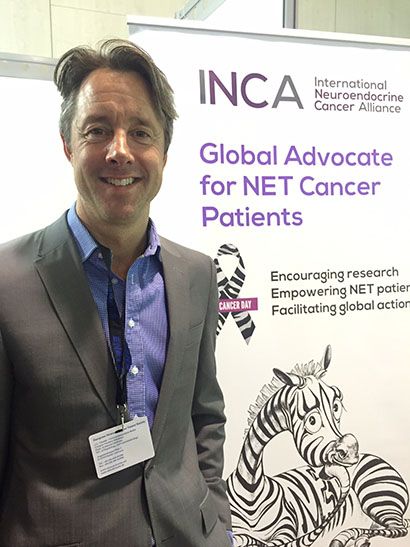 Dr John Leyden
INCA and Novartis Global Survey Posters for download
https://neuroendocrine.org.au/wp-content/uploads/2020/03/ENETS-NETPatient-Experience_FINALPoster.pdf
https://neuroendocrine.org.au/wp-content/uploads/2020/03/ENETS-Poster_NET-Pt-Perspective_FNL.pdf
https://neuroendocrine.org.au/wp-content/uploads/2020/03/ENETS-TimeToDiagnosis-FINALPoster.pdf
https://neuroendocrine.org.au/wp-content/uploads/2020/03/ENETS_MDT_NETPtSurvey_FNL.pdf