Since 2013, much-needed funds have been raised for The Unicorn Foundation by participants in the Mosman Public School's annual fundraiser, The Mini-Mos Community Fun Run and Fair.

Monies raised by Mini-Mos over the past two years have been directed to a world first NETs research study being undertaken by the Nuclear Medicine Unit at Royal North Shore Hospital (RNSH).
The research project will study a therapy called Lutate, which uses radioactive particles to kill tumours from the inside out. This treatment has been shown to slow the progression of the disease in many patients who otherwise do not respond to standard treatment.
Speaking to the group of Year 6 students, Acting Head of Nuclear Medicine Dr Geoff Schrembi said the research would focus on optimal timing, safety and the use of chemotherapy agents to increase treatment efficacy.
"The money you guys have raised is helping us discover new and better methods to treat cancer," Dr Schrembi said. RNSH plans to provide up to four Lutate treatments per week by the end of 2015.
During the tour the students were shown how patients are diagnosed and treated with Lutetium (LU-177), which is soon to be distributed by the Australian Nuclear Science and Technology Organisation at Lucas Heights. Up until now, the medicine has been imported to Australia.
It was an eye-opening experience for the students from Mosman Public School, knowing their participation in the Mini-Mos has led to such developments in medicine.
"I was surprised at how much we are actively helping," student Bailey McConaghy said.
Bailey's sentiments were shared by his fellow students.
"I didn't realise we were making such a difference," student Jasper MacNevin said.
"I feel happy that our school is able to make a difference to the people who have cancer," student Tilly Giles said.
"We can help save people's lives," student Charlotte Cooper said.
Dr John Leyden, founder of The Unicorn Foundation, told the students Mini-Mos has helped raised awareness of NETs and enabled the development of tests that can diagnose patients earlier.
"The Mini-Mos has helped raise money for the research that is going to help patients be treated. People will live long and better lives," Dr Leyden said.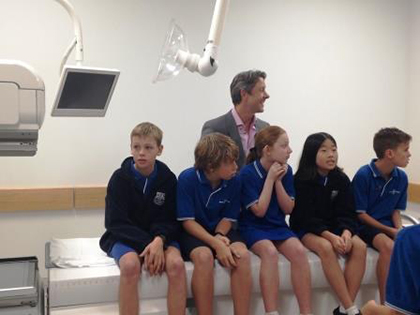 The Mini-Mos Community Fun Run and Fair features a 2k, 5k and 10k run around the streets of Mosman and a fair on the grounds of Mosman Public School.
The event offers participants of all ages and abilities a chance to support Mosman Public School and its nominated charities The Unicorn Foundation and Autism Spectrum Australia.
This year's Mini-Mos is on Sunday 14 June. Register at www.mini-mos.com