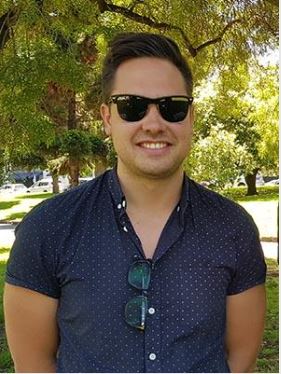 The team at REA
Group in Richmond Victoria suffered a huge loss recently when a beloved
colleague passed away from NETS. In Aaron's honour they have organised many
fundraisers during November.
Please read below
the beautifully written words about Aaron Abrahams….
Aaron Abrahams, affectionately known to us as "Az" or "Azza"
battled the rare Small Cell Neuroendocrine Carcinoma cancer and lost, after a
brief 4.5 months.



Az never said a bad word about anyone. He was warm, genuine,
caring and willing to help whenever he got the chance. Az was the guy who would
go for coffee even when he'd already had four that day so you wouldn't go
alone. The one who would drop everything he was doing – even though he had a
deadline in 1 hour – just to help you out. A friend who would listen to you
vent about a project, make you laugh and tell you not to worry because it
always worked out – didn't it?!



He was never stressed and if he was, he had a good way of
showing it. Instead, he laughed it off, shook his head and said "that's mad
cooked", one of his many phrases when something went wrong.



Az was the token male in a team of 10 women and he took it on
the chin. He joined in our chats and humoured us when we decided it was a 'wear
blue to work day', but you could tell he cherished the times he caught up with
men in other teams to talk racing, boxing and beer.



Az never complained about work. And he never complained about
the devastating hand he was dealt. We were lucky enough to see Az on a few
occasions after he was diagnosed. He came to work to join in on our team days
and despite not seeing him every day, nothing had changed. We picked up where
we left off and spoke about how his wedding plans were tracking, where he was
planning on going for his honeymoon and when he'd be coming back to work.
Unfortunately, that day didn't come.



Az has left a big hole in our hearts and our team. When we
found out he had cancer we were in shock. How could someone who was so nice,
full of life and so young have to go through this? We miss him terribly and
it's hard to believe that he's gone. We still expect him to walk through the
door in his loud shirts, perfectly styled hair and cheeky smile!
Some of the
fundraising activities that REA have worked on during the month have included:
Matched Payroll
Giving
Any money donated
through our good2give, matched payroll giving program, REA will match!
Community Café:
Charity of the Month
For the month of
November, The Unicorn Foundation has been set up as the Charity of Month at our
in house cafe. The café has been set up downstairs for over a year and each
month we highlight an additional key charity.
Bake Sale – 20th
November
The team will put
their baking to the test and host a bake sale on the 20th November
Fun Run – 30th
November
To celebrate and
end the month on a high, we will be hosting a Fun Run style event and
BBQ/sausage sizzle.
Unicorn
Foundation are so thankful to the team at REA for supporting our cause and know
it will help us on our ultimate mission to find a cure for NET Cancer.