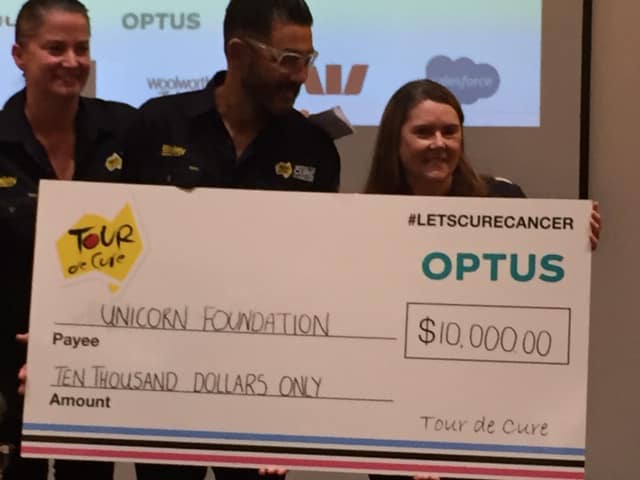 Unicorn Foundation is so grateful to Tour de Cure Australia for their incredible support of NET Cancer patients.
Our wonderful Support Group Facilitator in Canberra, Lynda Dunstone, was happy to be part of their event in early May especially when they presented her with a $10,000 for Unicorn Foundation.
Here are Lynda's comments from the night:
"What a wonderful night and an amazing group of people, volunteering to ride from Sydney to Geelong in 9 days, to raise funds not only to make a difference to the lives of those living with cancer, but to ultimately find a cure. Today they are riding from Jindabyne, through Thredbo, Khancoban and on to Cooryong. Minus 3 in the mountains this morning with a cold front coming through. They have many steep hills to climb, with the forecast of rain and possible snow.
Have a look at their itinerary, and if they are passing near you, go and say hi, talk to them and thank them.
They just want to hear our stories, and how their fundraising is supporting us, and changing our lives for the better.
Such an amazing group, and I am so lucky to have been able to meet them and thank them."
We are so grateful to all the riders and teams who work so hard at Tour de Cure to raise funds which help organisations like ourselves continue our vital research and support services.