Tayla Barreau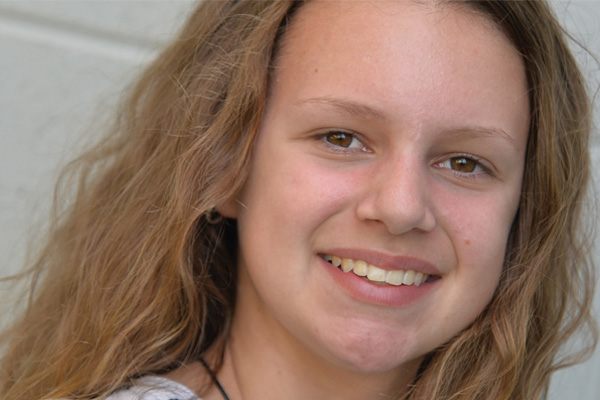 On Monday the 19th March (my husband David's birthday) we were in transit to the Women's and Children's Hospital in Adelaide, after receiving a referral from our local GP. Our eldest daughter Tayla had an ultrasound, MRI and CAT scan just days before, all which detected a mass in her abdomen, this warranted further investigation by the hospital. Even more bizarre was the fact that she had found this lump herself.
Her symptoms were at times vague; feeling dizzy, heart palpitations, night sweats, and frequent urination…not something you could put your finger on. She still carried on as normal went to school and played sport as these symptoms didn't seem to hinder her in any way. That trip to the hospital was one of worry, concern and anxiety. We had already spent almost 12 months there with our first son Luke who had cancer.
A biopsy was carried out the next day, and it wasn't long before the surgeon was speaking to us, and from the pathology it appeared to be a 'Paraganglioma' a tumour located in her abdomen. Most of these are benign 97% but 3% can be cancerous. We would await the final results which would take a few days.
On the day of my birthday March 22nd the initial diagnosis was confirmed. An operation was carried out in April and a 5cm tumour was removed. Tayla recovered well and life went back to normal. During her stay in hospital we were referred onto the Familial Cancer Unit at the WCH for genetic testing. As these tumours are extremely rare in children, it was possible it was hereditary. It took over four months but eventually we were told that Tayla had a genetic mutation, called SDHB.
At this point my husband and I were tested and he tested positive for the gene. Our youngest daughter Mia, also has the mutation. So what does this all mean, well the girls now have a 50% chance of passing it onto their offspring and they all will need lifetime surveillance and blood/urine tests and annual scans, to monitor this.
Tayla is now more likely to develop other tumours, as a result of this gene. Her risk of developing other types of cancer also significantly higher.
Since her initial diagnosis she again was admitted for another operation in January of 2013, where two more tumours were removed from her abdomen. She now has PET scans as well to detect any tumours.
*A Paraganglioma is a type of neuroendocrine tumour, and are rare in children. Our first son Luke (12 months) was diagnosed with neuroblastoma (also a type of neuroendocrine tumour) in 1997, but lost his battle just over twelve months later. His DNA showed no evidence of this genetic mutation, just really rotten luck.
Jackie Barreau (mother)