With the 4th International Neuroendocrine Cancer Alliance (INCA) patient summit over for another year, we reflect on all that has been achieved and what is going on in the medical community with regards to NETs around the globe.
The first day of the three day summit involved the welcoming of two new full member groups, the NET Patient Network (Ireland) and CNETs India. This brings the total of full member countries to 20 which is a great result. We are always looking at expanding the group as we look to how INCA can encourage and support (through experience and resources) developing nations to start NET Cancer patient groups.
The first day finished with the presentation, by Unicorn Foundation Australia, of this year's NET Cancer Day Awareness campaign, "Lets Talk About NETs". The campaign involves engagement by patients and their support groups within their local community to raise awareness through the use of branded take away coffee cups. We are asking everyone to get involved and make the most noise this year. Simply click here for more details and how you can register your interest.
Day 2 saw the group discussing:
Session One: INCA Strategic Pillars
– INCA communications and branding strategy (Simone Leyden); INCA Membership strategy (Grace Goldstein); Collaborating with medical experts to advance research and elevate standards of care in NETs (Ron Hollander)
Session Two: Gold Standards of Care in NETs
– Latest Developments in NET treatment ENETs Guidelines (Dr Marianne Pavel, ENETs); ENETs priorities and prospective common platforms with INCA (Dr Bertram Wiedenmann, ENETs); European Reference Networks on NETs (Steven Bridges, ENETs consultant)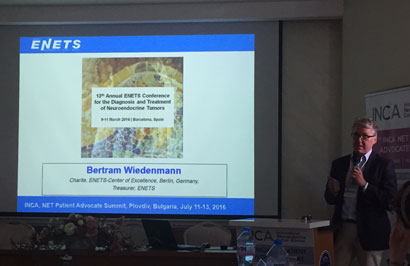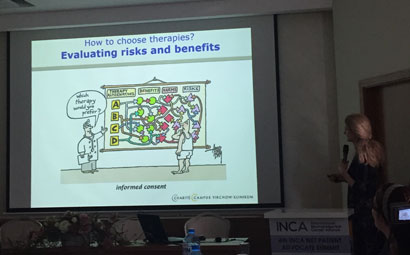 Session Three: New Trends in NET Diagnostics and Treatment
– What is new in Nuclear medicine on the NET arena (Prof Rod Hicks, Peter MacCallum); Access, opportunities and challenges to delivering Nuclear Medicine for NETs patients (Josh Mailman); Drug development trials round-up (Dr Piero Ferolla); The significance of patient involvement in clinical trials (Ron Hollander); AdVince: The Oncolytic Virus (Dr Magnus Essand)
AdVince: update from Prof Magnus Essand of Uppsala University on the AdVince Oncolytic virus at the INCA patient summit in Bulgaria. The first patient has had 4 rounds of the treatment and there is mixed results, some tumour sites growing, some stable, and some reduced. As it is a phase 1 trial the dosage is very low so the researchers are happy to see as much impact as they are. They are now recruiting more patients (12) to the phase 11a. Currently it is focussing on liver metastases.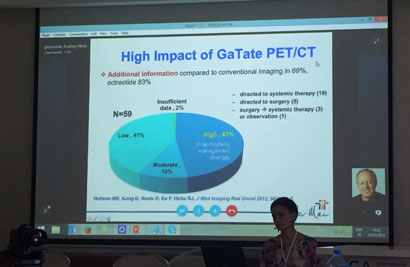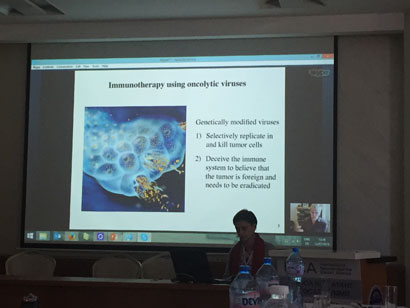 Session Four: Ways to Collaborate with Medical Societies: How can we best work together?
– Workshop and breakout sessions
Day 3 involved:
Session Five: The Game-changing role of the patient voice
– The COMMNETs model: patients at the table (Dr Ben Lawrence); The role of the NET nurse in empowering the patient (Cathy Bouvier); How we can best inform policy makers of the challenges facing NET patients (Simone Leyden).
Session Six: Exchange and Conclusions
– Wrap up of NET Cancer Day plans "Let's Talk About NETs", Bringing complicated issues closer to the patient: Trooper TV (Allen Wilson); Growing a NET patient group (Siobhan Conroy), New research opportunities (Ron Hollander); Struggles and hardships in NET patients advocacy (Yoshi Majima); Global NET patient survey: Next Steps
We thank the organising committee and in particular Teodora our INCA President for hosting us in her beautiful homeland of Bulgaria. We look forward to sharing the video of the presentations as they become available.