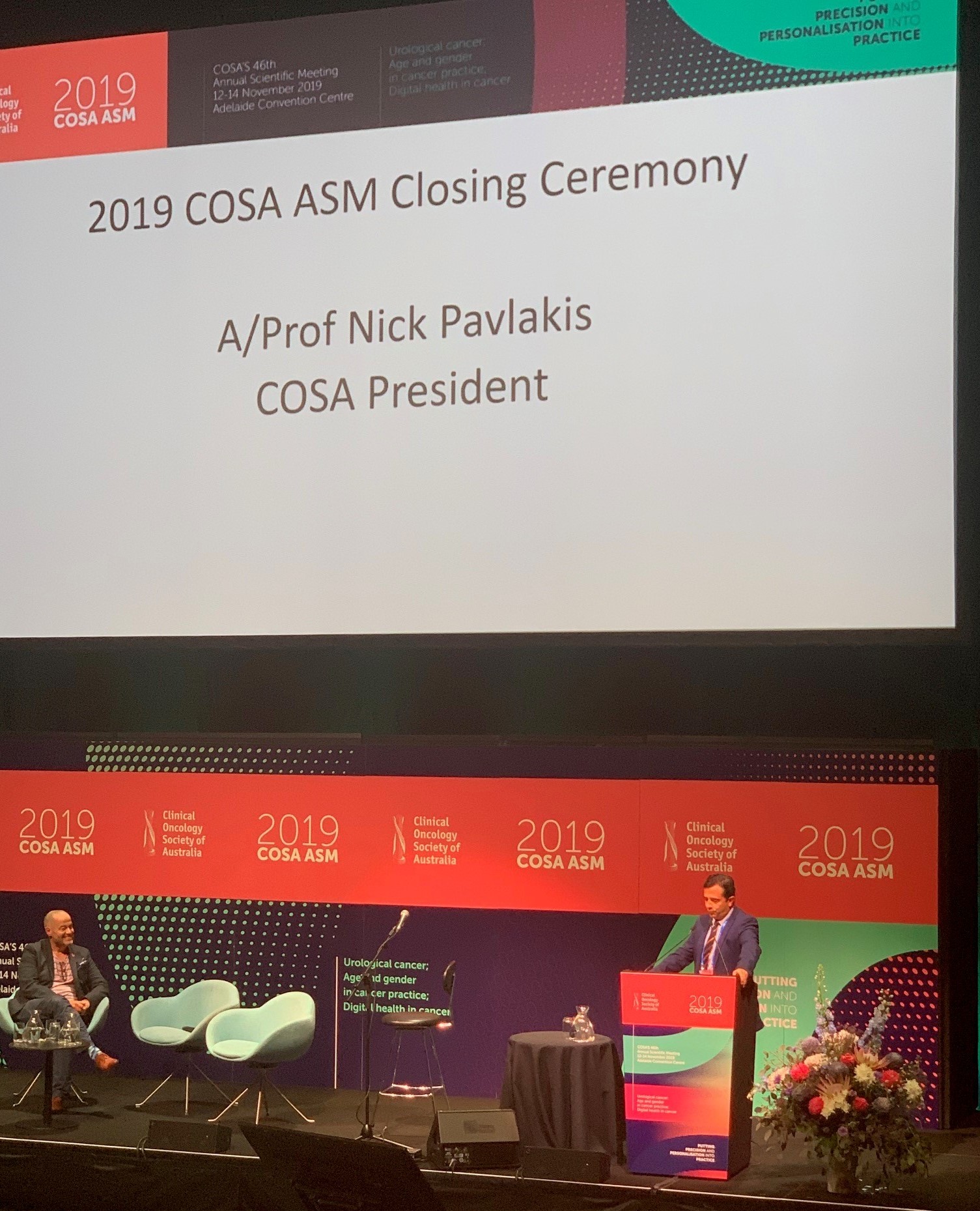 COSA held its 46th ASM in Adelaide 12 – 14 November 2019. There was an excellent attendance of multidisciplinary practitioners at the conference which was themed "Putting Precision and Personalisation into Practice". COSA membership is diverse and the ASM celebrates this diversity with the depth of presentations by Clinicians, Researchers, Nurse, Pharmacists and Allied Health Professionals. There was a strong focus on Digital Technology to ensure comprehensive collection and utilization of data and also the impact of distance for cancer care. Another session was in the form of an MDT case discussion titled "A couple armed with an iPad" which covered gender issues, couples, sexuality, age and medicinal cannabis.
The Unicorn Foundation team attended the ASM. Over the three days there were sessions entitled "The Best of the Orals", which saw the presented abstracts which had been submitted. Our CEO Simone, presented one of our current projects which is "Assessing the gaps in experience and knowledge of Australian Primary Health Care Professionals (GPs) in treating and caring for the increasing number of neuroendocrine tumour (NET) patients". In this same session there was a presentation about – "Facilitating effective family carer engagement in cancer care – Development of education modules".
On the final day the Plenary session was "Personalising cancer care at the population level: Beyond age and gender". This presentation looked at cancer epidemiology across age spectrums (incidence, prevalence, burden and issues of disease, What about Race?, the emergence of youth cancer as a unique model of care and older cancer patients – the evolution of geriatric oncology and palliative care). Again this session was very thought provoking, taking into account the diversity of cancer patients and their needs. In the afternoon we had the privilege of an intimate Q&A and a performance by Kirk Pengilly (INXS band member) who talked about his cancer experience.
Meetings such as this ASM, are forums for updating and gaining knowledge of research and improvements in care. It also is a time to meet with International speakers and national colleagues to collaborate and share our work and plan for the future of cancer care.
Report by Meredith Cummins (UF Project Officer)