(written by Michael Whitbread)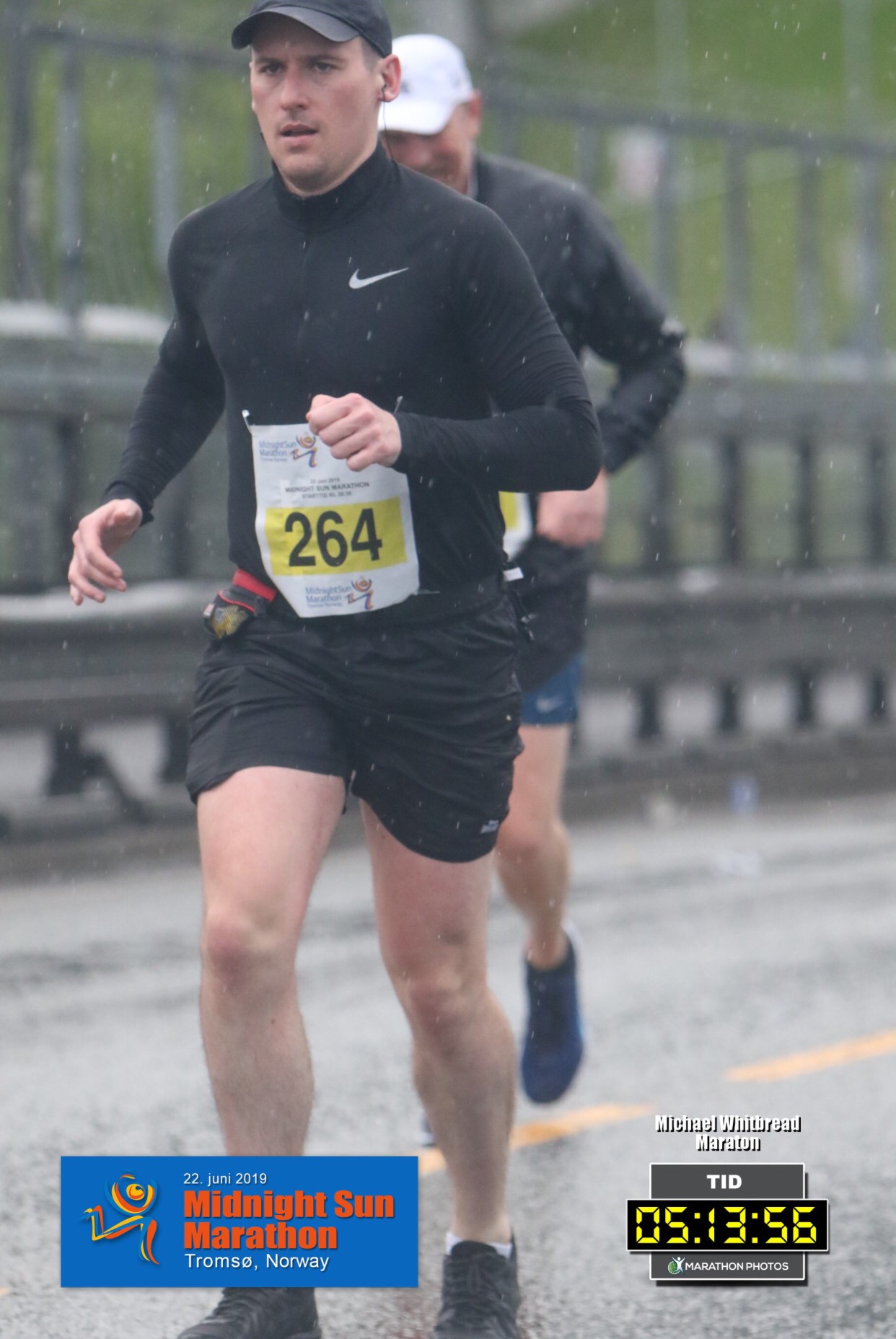 They say what doesn't kill you makes you stronger.
Earlier this year, I was googling 'best marathons to run in Europe' as I am based on the other side of the world in the Channel Islands, off the coast of France. I came across what could be the most bizarre of all. In Northern Norway, above the Arctic Circle, the sun does not set through June. At all. So a marathon is held where you start out at 8.30pm and run into the night. (I use the term 'night' loosely… the sun doesn't even fade). The picture out the window (below) is from my hotel with sun blazing away at 3am.
My twin, Danny, has been running his own marathon since mid-2018, when we got the news he has NETs. So I thought this barking-mad marathon idea could be a means to raise funds for the Unicorn Foundation. And hopefully give Dan some hope from afar.
The Foundation has been a reliable source of comfort, advice and inspiration to our family since Dan's diagnosis and I wanted to try and repay the favour. They make fundraising really easy by having a template fundraising page on their website. I set my fundraising target at a modest $1,000, as I thought I'd keep things reasonable. The donations from colleagues and family flooded in over the coming weeks, so much so that I had to raise the target amount three times! In the end we got to $2,575 and I was on my way.
First stop, the Norwegian capital, Oslo. I can't recommend Norway enough, for those in a position to visit. What a welcoming, friendly people. The slightly horrifying painting you see below, is not a portrait of me after my run but in fact the famous The Scream, by Norwegian painter Edvard Munch. I had the privilege of attending his Museum in Oslo and, luckily for me Oslo Pride, which was happening at the same time.
I'd run a marathon before but it's fair to say I wasn't fully ready for this one. I'm not sure you could ever be, unless you were in a position to train in the middle of the night. The vibe when I arrived at the starting point was incredible: broad daylight, hundreds of fit people stretching and getting into the zone. Some Arctic rain got going but Norwegians let nothing phase them. The spectators chanted "Heeiiya!" "Heeiiya!" throughout the race as we passed, which I took to mean "Keep going!"
I'd hoped that the excitement of it all and the broad daylight would keep me going, but like clockwork from about 11pm my body was telling me, increasingly loudly, that it was time for sleep. I will never forget being on my own, at 1am, running through a Norwegian industrial estate and almost falling asleep on my feet. Then I remembered my poor twin struggling with foot blisters from his treatment and thinking, I'm doing something that Danny cannot currently do, so I have to press on. It felt like I was running for both of us.
I lumbered on and finally crossed the finish line at 1.45am. It was a lot of hard work but I was so happy when Danny saw my running picture and said "When I'm feeling down, I will look at that picture and Michael's look of steely determination and keep going".
We've both promised each other that some day when he is better, we will train together and do that marathon again. I literally cannot wait.